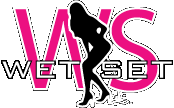 Wet Set Videos
Videos from WetSet are only available as downloads

Wet Panties One - This first video from Wet Set Magazine has some of the sexiest pants wetting scenes ever. Made in England exclusively for Wet Set, it features three of the cutest little panty wetters you've ever seen.
Wet Panties Two - The second video from Wet Set Magazine. If you like the magazine, you will love the video! We call it "Vicky's Wet Panties" and more than Vicky's panties will be wet by the time you finish watching it.
Wet Panties Three - Features 3 new girls, Karen, Jo and Claudia, as well as our old favorite, Vicky. This video is much more sexually explicit than previous tapes, often with the girls masturbating after wetting themselves.
© Copyright 1995-2023 Patches' Place. All rights reserved.

Imprint & TOS | Privacy Policy | US 2257