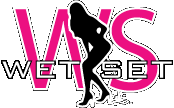 Wet Panties 2 -- Vicky's Wet Panties
Wet Panties 2 is the second video from Wet Set Magazine. If you like the magazine, you will love the video! We call it "Vicky's Wet Panties" and more than Vicky's panties will be wet by the time you finish watching it.

Many of you who bought the first video from Wet Set Magazine fell in love with Vicky! She has a way of making guys just melt inside with her sexy smile and naughty way of talking. She has a body that guys love to look at and dream of exploring with their hands. She has a way of inviting you to watch her be naughty that makes you want to be there and feel the warm pee as it runs through her panties or down the legs of her pants or through her skirt.
You can do the next best thing and take your time doing it with this latest video that runs over 1 hour and 50 minutes. Vicky wants you to watch her as she acts out your wettest fantasies while making love to you with her eyes in each of these five great scenes:
Scene 1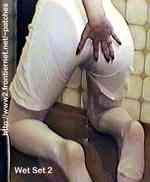 Vicky is dressed in cream, ribbed tights with the gusset cut out, a thin red teddy, and a short white slip dress over the top, with white heels. She stands in the shower, and lets her pee dribble down her tights and into her shoes. She then sits in the corner, and pushes the dress into her crotch, peeing some more. There are views from the back too with lots more pee flowing. Then she starts eating some custard, pouring several pints of it all over herself, and enjoys massaging the sweet yellow liquid in with her own. Finally, she washes off, and then strips down to just her tights.
Scene 2

Vicky is sitting in the conservatory, wearing a short, dark pink dress, and has been having lots of liquids! She talks to the camera for a while, teasing, then lets herself go right through her white lacy panties. She stands up to show off her wet bum, then pees down her stocking covered legs. She then kneels down in her puddle, and pees some more. Next she washes off with a few jugs of water, before getting into the bath, submerging fully before stripping off.
Scene 3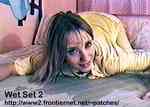 Vicky is asleep in her yellow pyjamas. She's obviously having an erotic dream, and starts to flood the bed with pee. Luckily she sleeps with a plastic sheet underneath, so the pee doesn't run away. Still asleep, she rubs her piss wet bottom. When she awakes, the bed, and most of her outfit is really soaked. 'Oh dear,' she thinks, deciding to rub her breasts on the sheets, to further enjoy the wetness. After writhing around for a while, she rips open her trousers, to give us a lovely shot of her wet pussy, as she pushes up against the bedroom wall. Then it's off to the bathroom, for her morning wash in the tub, before stripping her pyjamas off.
Scene 4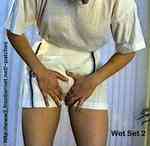 On the way back from netball practice, Vicky stops off for some beverages. She splashes a little on her T-shirt, then heads off home through the woods. There, she stops by a large fallen tree. She has brought a beverage with her, and drinks a bit, but then pours the rest all over herself. She decides she likes the wet feeling, so it's time to piss herself again. Her pee runs out of her gym knickers, and off the pleated hem of her skirt. It runs down her legs, and into her white socks and gym shoes. We get lots of up-skirt shots, and after enjoying the wetness for a while, she jogs off home. In the conservatory, she now has a full bladder again, and presses the skirt into her crotch to pee through it. When she's finally empty, she hops in the play pool to soak herself through, then uses some liquid soap to clean up. Finally she strips down to just her socks.
Scene 5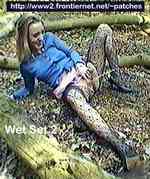 Vicky goes down to the woods to see how far she can pee! She pulls her panties down, and rips her lacy black tights open, and lays back. She surprises herself at the distance! She puts her panties back on, and from her handbag, a can of lager appears. Some of it is drunk, but the rest goes over her blouse, revealing her lovely breasts through the blue material, and some down her short, pink skirt. Time for another pee, and she pulls her gusset to one side for another distance shot. To clean off, Vicky heads to a small, pretty stream in the woods. Luckily no one walks down the footpath as she steps into the stream, still in her heels, and plunks herself down. After splashing herself all over with water, and rolling about, she strips off, and lays in the bluebells to relax.
This video is
not
available on DVD or VHS tape and is only available for
download
.
© Copyright 1995-2023 Patches' Place. All rights reserved.

Imprint & TOS | Privacy Policy | US 2257