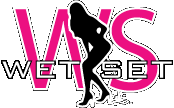 Wet Panties 1
This first video from Wet Set Magazine has some of the sexiest pants wetting scenes ever. Made in England exclusively for Wet Set, it features three of the cutest little panty wetters you've ever seen.
Vicky, Lisa and Louise are three gorgeous girls who just love to pee in their pants. Not only do you see them soak their panties or jeans, but you can hear them talking about it as well - needing to go, finally letting it out, the warm feelings in their panties and down their legs!
Each wetting scene is followed up with the girls rinsing the pee from their clothes while they're still wearing them. In the shower, pool or river, their clothing clings sexily to their bodies, and reveals just how beautiful these girls are. There's plenty of nudity too, as the girls finally remove all trace of their naughty fun.
In the words of one customer: "It's got five excellent pants wetting scenes with three different girls. The best quality video I have ever seen! Beautiful girls, too! Truly superior to anything else I have seen."
Scene 1
Vicky is in the bedroom getting dressed in white bra and panties, stockings and suspenders (garter belt), with a black dress and grey skirt over the top. She pops out to the pub and chats to the camera about how she loves wetting herself. Back at the house she lays down on the bed and spreads her legs, while we get a wonderful view up her dress and between her thighs. And then she does it - she wets her pants! Pee flows warmly through her panties and around her pussy, pouring down beneath her. She turns over on her knees, with pee running down her stockings, and then sits on the edge of the bed. Some pee has collected in her shoes, so she pours it over herself. Still needing to go, Vicky stands up, and lets the warm pee trickle down her legs as she plays with her wet knickers. Then it's off to the bathroom to clean up, still fully clothed, finally stripping down to just her stockings and suspenders.
Scene 2
While walking in the woods wearing blue jeans and a blouse, Vicky tells us that she needs to go, and wants to do it in her jeans. She half squats down and completely soaks her jeans, letting us know just how warm and wonderful it feels in her pants. She rubs her hands sensuously over the wet material, and them pulls them down slightly so we can see her pissy wet panties. Then it's back home for one of the sexiest fully clothed bath scenes you'll ever see. Vicky is a real honey, and thoroughly enjoys pissing herself. She has even volunteered for some future wetting scenes in public!
Scene 3
Lisa is at the beach, and dressed in a maroon business suit with full underwear and white stockings. She was invited out by her boyfriend, but decided she would much rather have a panty pissing session on her own. She drinks a few cans of cider, then pulls up her skirt and pisses through her knickers and the back of her skirt. Pee flows everwhere, and she delights in examining her pee streaked stockings. With her bottom now soaking wet, she pours the remaining cider down her blouse, soaking her breasts, then proceeds to jump about in the sea before stripping to just her stockings. The entire scene was shot at a public beach!
Scene 4
Lisa again, by the river. She pees in her blue jeans while standing up, and tells us how wet, sticky and tight they feel - but so nice and warm! She walks along the river to find a nice spot to soak and rinse off in the water. Once thoughourly wet, she takes off her white blouse and jeans, and then finally her white girdle.
Scene 5
Features Louise Hodges (well known from American Buttman in London), wearing blue jeans and a white leotard, sitting down on a sunny grass bank by a hotel pool. (The scene was actually going to be a straightforward wetlook, but Louise decided otherwise!) Of her own accord she pisses though her jeans, which glisten in the sunlight, turning over to give us a lovely view of her pissy wet bum. Louise knows exactly what she likes doing, and tell us all "what a naughty girl she is!" Then then grabs a nearby watering can, fills it from the pool, and proceeds to soak her breasts and jeans. She strolls down into the water and pulls her wet jeans and takes her leotard off, remarking how nice the tight wet denim now feels against her pussy!
Patches' Comments
Now that you have read the official blurb on Wet Set's new video, Pi-Pi and I have some comments and reactions to this video. We watched it together as soon as the NTSC master arrived.

After watching about 10 minutes of this video, Pi-Pi had his hands all over me and started humping my thigh as we sat together on the couch. Then he ran to the kitchen and got a glass of warm water and came back and poured it down the front of my blouse and skirt. I was still trying to watch the video and he began undressing me. We stopped the video before we had even seen the first 20 minites and had sex right there on the couch.

He was incredibly turned on and would have wet his pants when the girl in the video was sitting in the pub, looking at the camera, and saying "I like me lager because it makes me want to wee! Would you like to see me wet my knickers?" in a British accent. He would have wet them except that he was too erect and stiff!

Later, after we watched more of the video, I asked him what he thought of it and he said, "That video is so hot that it would make an impotent guy as hard as a railroad spike and cause him to shoot his wad further than a water canon at a prison riot!" (I am not sure what he had been reading lately to come up with imagery like that.) He also said the shower scene was the best he had ever seen, even better than the shower scene in Patches' Bloopers which many guys have said is the best they have ever seen in the past.

Well, I still get a little jealous when I see him get turned on by other girls in videos so it is about time for me to go out to dinner with him and drink a few beers while I tease him about how naughty I want to be by wetting myself as soon as we leave the restaurant. I like to watch his face when I talk about standing in a public area and wetting myself and hoping I won't get caught. It never fails to take his mind off whatever he has seen in some video no matter how hot it is!
This video is
not
available on DVD or VHS tape and is only available for
download
.
© Copyright 1995-2023 Patches' Place. All rights reserved.

Imprint & TOS | Privacy Policy | US 2257