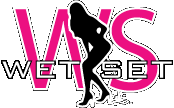 Wet Panties 3
The "Wet Panties" titles are made in England for Wet Set Magazine. Here is what Jackie, the editor of Wet Set, said when shown the master tape for the first time: "The girls sure are sexy aren't they? I reckon they're the best looking girls I've seen in any of the tapes we've got. Can I take it home tonight - I'll bring it back I promise."

The 3rd tape in the "Wet Panties" series is 80 minutes long, and features 3 new girls, Karen, Jo and Claudia, as well as our old favorite, Vicky. This movie is much more sexually explicit than previous movies, often with the girls masturbating after wetting themselves.
Scene 1

Vicky is in the bathroom. She's having a smoke while wearing her blown stirrup pants, and white stretch top. The smoke makes her want to piss, and she just sits on the toilet, and lets go through her pants. She then stands on the carpet, and wees some more down her legs. After playing with the wet bits, she gets into the bath, still fully clothed, and splashes around, before stripping off.
Scene 2

Jo, one of our new girls, has been exercising in the garden, and just can't hold it anymore. Her pee floods through her pink leotard and leggings. After some more exercise wearing her pee soaked clothes, she hops in the play pool, to wash off, and then to strip.
Scene 3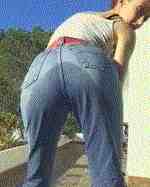 Karen, another new girl, is locked out of her villa, she's been dying for a pee, and eventually, just leans back against a pillar, and lets rip. The piss soaks down the legs of her blue jeans, and trickles into her black platform shoes. When the flow stems, she crawls along the titled floor, wallowing in her pee trail. To clean up, she steps into the pool, and has a quick soak, before climbing out, to strip off her pants. The wetting has really turned her on and she decides to give us an extra treat, by finger fucking herself, achieving a wonderful orgasm.
Scene 4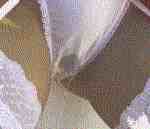 Yet another new-girl, Claudia, is up on the roof in Spain. She's wearing an incredibly short maid's outfit, with white stocking and suspenders. She sits down on a step, spreads her legs, and let's the wee pour out through her panties. After spreading the wetness around, she pours some water over herself, before sitting in a large bucket of water. After removing her panties, she quickly fingers herself, doggy style.
Scene 5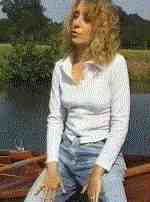 Next we're back with Vicky. She has gone for a row on the river, but is not very good at it. She lands her boat on the grassy bank, then stands next to it, and pees a torrent into her blue jeans. She sits down for a while, playing with the wet stains, before letting some more out. To wash off, she walks straight into the river, and dips down, saturating her jeans and white top. Back in the boat, she strips to her white underwear.
Scene 6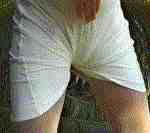 Jo is at it again, this time she's in the bathroom, having a quick pee through her yellow shorts while sitting on the toilet. She then soaks in the bath, before another trickle comes out from her naked pussy.
Scene 7
Vicky is walking in the jungle, and decides to pee for distance. She lifts her little white dress, and pulls down her panties, to give her stream an uninterrupted path. After pulling her pants back up, she holds the dress in tight, and lets the pee flow out through it. She then soaks her outfit with a hose, then sits down and plays with herself.
Scene 8

Jo is also wandering through the jungle, but she's wearing her blue jeans and a red blouse. She pees her jeans for the first time, and decides that she likes the feeling of the piss running down the insides of her jeans. She soaks herself down with a hose, then strips to her underwear, pulls down her wet panties, and fingers herself to an orgasm.
Scene 9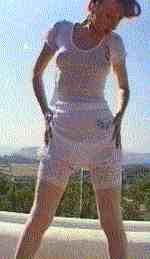 Lastly it's Karen again, she's gone up on the roof in Spain, looking for her naughty maid. She finds the pee trail made earlier by Claudia, and is soon soaking her own panties. The pee floods out from her tie up panties, and onto her white stockings. She has lifted her translucent white skirt for us to see. After sitting in the tub of water, to complete her soaking, she is so turned on that she fingers herself to a great orgasm.
This video is
not
available on DVD or VHS tape and is only available for
download
.
© Copyright 1995-2023 Patches' Place. All rights reserved.

Imprint & TOS | Privacy Policy | US 2257