Project Pee: A Wet Week with Cassandra & Mila
Project Pee - A Wet Week with Cassandra & Mila

Starring one of our most daring girls ever, the fabulous Cassandra with her daring friend Mila and four additional pee scenes from Magda. A total of twenty-six gushing pees.

Scene One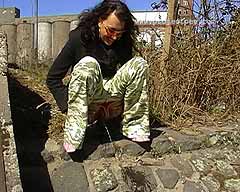 | | | |
| --- | --- | --- |
| | | |
| | This scene finds the girls relaxing by the riverbank. Ignoring the nearby anglers first Mila and the Cassandra pee by the river. Walking back both girls have to pee again and flood a station platform and steps. | |
| | | |
Scene Two

| | | |
| --- | --- | --- |
| | | |
| | We find the girls out and about in business attire. Mila has a daring pee into a water feature outside an office block and then Cassandra has an exuberant pee whilst seated on a brick plinth. The girls then go on to perform a fantastic pee duet outside an office building. | |
| | | |
Scene Three
Mila is very rude and pees whilst sitting on a bench at a bus stop. A couple of passers by have to splash through her puddle.

Cassandra retrains herself on this occasion and waits until she reaches the relative privacy of a builders yard before peeing a flood on the ground. Mila then dives down some underpass stairs and pees a river down them. Further along the road Cassandra stops to relieve herself by a tree, in full view of the road.

Scene Four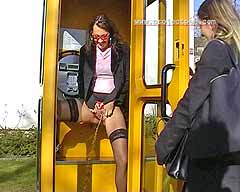 | | | |
| --- | --- | --- |
| | | |
| | Cassandra needs to make a phone call and also to pee. She makes her call whilst taking a flamboyant pee all over the phone box. | |
| | | |
Scene Five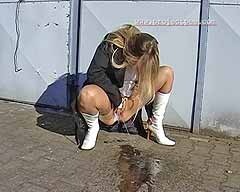 | | | |
| --- | --- | --- |
| | | |
| | Mila can't wait a second longer and dives a little out of sight to pee in the street. She just manages to get her panties out of the way in time. | |
| | | |
Scene Six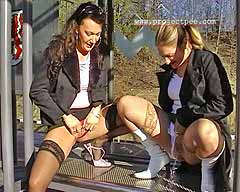 | | | |
| --- | --- | --- |
| | | |
| | Another fabulous pee duet; this time on the platform of a busy station. The girls absolutely soak the ground around the shelter. | |
| | | |
Scene Seven
| | | |
| --- | --- | --- |
| | | |
| | A great desperation scene from Mila, culminating in a dash behind some rubbish bins to take a huge gushing pee. | |
| | | |
Scene Eight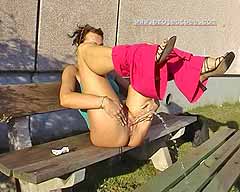 Cassandra at her most flamboyant and daring sits on a bench in the street, with her legs in the air and spray out pee like a fountain.

Relief does not last long however and soon Cassandra is desperate again. This time she squats at the top of a flight of steps and takes probably her longest pee of the movie. She has to stop a couple of times as traffic passes and finally leaves the steps and pavement beneath absolutely flooded with pee.

Scene Nine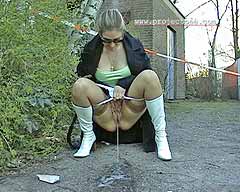 Mila, who had been acting as lookout for Cassandra, was now nearly at bursting point. She runs across the road, barely having time to pull down her panties before releasing a pee torrent that goes on for ever.

There is nothing faked about the relief that she shows.

Scene Ten
The girls are in a multi-storey car park and desperate to pee. Flamboyant as always Cassandra stops and directs a jet of pee through the railings and down into the stair well.

A little more restrained, Mila waits till they reach their floor before taking a neat pee into the drain.

Scene Eleven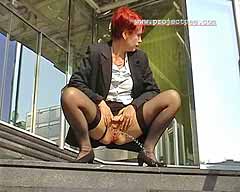 We leave Cassandra & Mila and join Magda for the final four pee scenes.

We find Magda out and about in her business suit. She finds the first office she tries to visit closed and takes a pee on the doorstep. Magda has no more luck at her second appointment and has to jump up on a bench behind a pillar to take a pee. Magda next pees down the entrance steps of an impressive office block. For her last scene Magda pees from a standing position down through some staircase railings into a basement.

Running Time: 60 Minutes

Available on

The video is $35.00 on DVD in NTSC or PAL format.

Visa, Mastercard, American Express and Bitcoin can be used on the Online Order Form.
Orders and payments by mail have been discontinued.

We are no longer accepting any orders from countries in the EU VAT zone.
Since our credit card processing is done from within the EU, we have
to pay the VAT on top of CC processing and currency conversion fees.
Therefore sales to EU countries are not economically viable.
© Copyright 1995-2023 Patches' Place. All rights reserved.

Imprint & TOS | Privacy Policy | US 2257