Patches 45 - Peeing in Public
This video features a new model, CJ Belle, who first appeared in True Desperation I from Hope & Spirit Productions. Six Patches' models also appear in this video including Devan, Genesis, Krista, Vanessa, Vicktoria and Willow! We call this video, "Peeing in Public!" It has 15 scenes and runs 60 minutes.

NOTE: This DVD is being released in April 2013 because the master could not be located by Patches when the other DVDs were made. The master was discovered when the assets of Patches Place were sold to Piss Media. The scene descriptions below are the original ones written by Patches. The pictures for each scene are the original ones provided by Patches and you can click on any picture to see a larger version. This video description page has been completely reformatted to reflect the website changes that have been made since the VHS tape was offered.
Scene One

The video begins with Vicktoria riding in a horse-drawn carriage in Central Park in New York City. She has to pee and starts to wet her shorts but the carriage driver keeps looking back at her to see what she is doing. Finally, to cover up that she has had an accident, she asks him if there are any restrooms close by. He tells her there aren't any near them but she can find one across the street when the ride finishes. She continues letting a little pee go at regular intervals until the ride ends.
Scene Two

Krista and Willow decide to play a round of miniature golf. During their game they become totally desperate. Not wanting to stop their game just to use the bathroom, they wet their shorts and create a water hazard before teeing off. It doesn't bother them that other people are playing nearby. They just continue their game right in front of them!
Scene Three

Next, Vicktoria introduces CJ Belle to the pleasures of wetting her panties in public. She tells her about when she peed in a men's room sink at a concert and then demonstrates in a bathroom sink. CJ tries it and finds out she not only likes it but gets turned on as well. (CJ Belle makes a guest appearance in this video and also appears in the True Desperation videos from Hope & Spirit Productions. She is a professional model with her own website.)
Scene Four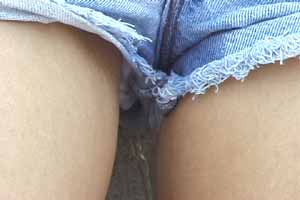 Krista is enjoying a nice summer day when she stops at a Waterworks Company. That inspires her to make her own "waterworks" by a wall in front of the company. Cars are passing by in front of her while she enjoys that pause that refreshes by wetting her shorts in a long flood.
Scene Five

Willow has a fun way to celebrate the fourth of July. She stops by a rose garden and enjoys all the flowers and the beautiful day. While watching people walk past, she floods her shorts and thinks about the sneaky way she can pee in public without anyone ever suspecting what she is doing. It gives her a bigger thrill than all the fireworks she will see later that evening.
Scene Six

Krista wakes up on July 5th and discovers she is still laying on top of a van at the top level of a parking garage where she fell asleep the night before while watching the 4th of July fireworks. All her friends have left her and let her sleep there all night. She has to pee badly and decides to wash her windshield to clean off all the bugs. There is nothing like the efficiency of taking care of two tasks at the same time.
Scene Seven

Genesis, Krista, Vanessa, Vicktoria, and Willow are all out for a day in the park when the lilacs are in bloom and so are a lot of other people. Naturally, the girls need to pee and decide to put on a show for anyone who is walking past. They take turns flooding their pants and shorts and they laugh about what people may be thinking who are viewing this spectacle.
Scene Eight

Krista gets to a bathroom just in time as the girls enter a bar together. However, the toilet in the ladies room has a messy seat so she just stands on the toilet with the door open and wets her shorts. Genesis comes by to see what she is doing and Krista asks her to get her another beverage. The rest of the girls are already at the bar loading up.
Scene Nine

Genesis, Krista, Vanessa, Vicktoria, and Willow are definitely in a party mood. They decide to all go to the men's room together. There is really only room for one person in the bathroom but this doesn't stop the girls from creatively filling the room like the old college trick of seeing how many people can get into a phone booth. One is standing on top of the toilet and another is on the sink. Three of them crowd into the area where guys stand to pee. On the count of three, they all begin wetting their pants. When they finish, they have to exit straight out into the bar area. They make their appearance while the jukebox is playing "I feel like a woman" and the patrons and bartender greet them with applause and laughter. They never did find out who the guy was that was pounding on the bathroom door trying to get in while they were having their wet fun.
Scene Ten

Krista is enjoying an afternoon by a canal in a public place. When she needs to pee, she does not go looking for a bathroom — she just wets her panties while people are walking by. It is a very sneaky pee and she almost gets caught several times by people looking at her.
Scene Eleven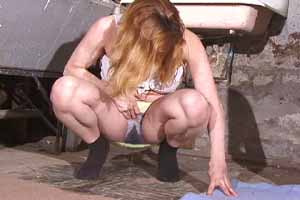 Willow is doing her wash and the sound of the rushing water stimulates a strong urge to pee. Not being able to dash anywhere close to use a bathroom, she just squats down and pees through her panties and the back of her skirt.
Scene Twelve

It is a rainy day so Willow decides to cut her shopping trip short and pleasure herself for a while in the back of her van. As she gets turned on, she also realizes that she needs to pee. She continues playing with herself until pee is flowing through her panties and she enjoys the warmth and climax as she gets wet.
Scene Thirteen

Krista is sitting on a split rail fence next to the field where she has been working. She is wearing a cute farm girl outfit with a hat. When she gets the urge to pee, she enjoys her break right there and wets her shorts. When a woman comes by, she quickly stops to hide what she has been doing but not before creating one of her famous floods!
Scene Fourteen

Krista and Willow have just walked out a long pier and are standing in front of a lighthouse. Boats and people keep coming by but the girls decide they need to pee so badly that they would never make it back to land. They decide to go right there and as they do, people keep walking by and they try their best to keep from being seen while they flood their shorts.
Scene Fifteen

The video ends with a very sexy scene with Devan and Vicktoria. Devan wants to teach Vicktoria a new trick she has learned. She has just discovered how to pee and have an orgasm at the same time. Both girls keep their panties on as they use their vibrators inside and outside their panties. Devan reaches a climax first and floods the bed as she has an orgasm. Vicktoria is not sure if she can do it but Devan takes her vibrator and uses it on her clit as Vicktoria floods her panties and bed. This scene may not have much to do with "Peeing in Public" but you won't care when you see it.
Running Time: 60 minutes

Available on

The video is $40.00 on DVD in NTSC or PAL format.

This video is also available for

download

.

Visa, Mastercard, American Express and Bitcoin can be used on the Online Order Form.
Orders and payments by mail have been discontinued.

We are no longer accepting any orders from countries in the EU VAT zone.
Since our credit card processing is done from within the EU, we have
to pay the VAT on top of CC processing and currency conversion fees.
Therefore sales to EU countries are not economically viable.
© Copyright 1995-2023 Patches' Place. All rights reserved.

Imprint & TOS | Privacy Policy | US 2257