Patches 44 - Getting Caught Short!
This video features a new model, Krista, plus Vicktoria and Willow! We call this video, "Getting Caught Short!" It has 18 scenes and runs 60 minutes.

This video has some of the boldest, daring public scenes we have ever shot. The girls and the cameraman were caught by a mall security guard and an irate property owner during the shooting of this video. Plus in several scenes, you can see the public observing what the girls are doing! Many scenes have very big floods. Krista sets a record for the longest pee in a Patches video with a stream that runs for one minute and twenty seconds! Willow provides longer floods than she ever had before. Vicktoria does some very bold and sexy scenes in front of total strangers.

Download Clip 1
Download Clip 2
Scene One

The video opens with Krista emerging from a hollow log after a long winter sleep. (Hey, use your imagination! A girl who has been hybernating all winter is going to need to pee very badly!) It makes her feel good to hear the birds chirping and see that spring is in the air. Something else makes her feel good when her warm pee starts trickling through her pants! She begins a flood that goes on and on and just when she thinks she is done, there is more pee that gushes through her pants.
Scene Two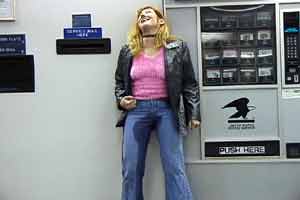 Willow is sending letters to some fans and when she gets to the Post Office, she realizes how desperate she is. Thinking of her fans, she knows they would enjoy watching her soak her jeans right there while she is mailing their letters. She not only floods her pants but she makes a puddle around her feet as she savors every moment of this wet naughtiness!
Scene Three

Krista and Vicktoria are out one afternoon looking for guys who will watch them wet their pants. They find one and tell him about their little fetish. They even ask if they can pee on him but when he tells them "No," they ask if he wants to pee on them which got a nervous laugh in response. They tease him by rubbing up against him and Vicktoria even shows him some skin after wetting her pants. Krista had a bashful bladder so their new friend does offer to push on her bladder to help her pee. All of a sudden, they discover someone is watching them out the window behind them. They make a hasty exit and find a new location where Krista can sit down and wet her panties while the guy looks on in amazement.
Scene Four

In the next scene, Willow is at a restaurant. She enjoys plenty of drinks before dinner. Feeling happy, she decides to skip any potty breaks and just wet her pants if and when the urge comes during dinner. She holds it for a while but then figures it is time for some sneaky wet fun. She soaks her pants without anyone catching on to what she is doing. It is her fun way to spend an afternoon!
Scene Five

Vicktoria and Willow are in a Conservatory with lots of plants and flowers. Vicktoria needs to pee and Willow dares her to do it right there with all the people walking by. Never a chicken when someone dares her, she proceeds to wet her pants, the arm rest on her bench seat, and make a puddle on the floor! Two women behind her notice the puddle and begin laughing as they realize what she is doing! People continue to steam past her and she continues to make a stream in her pants! Finally, she lets go a strong gusher flooding her pants and creating a large puddle on the floor. Most people continue to look at the plants. Maybe they were being polite and pretending not to notice!
Scene Six

Krista is feeling like a little kid and goes for a ride on a carousel. She is a naughty little kid because she decides to wet her panties and see if she can get away with it. She is sitting in a "teacup" type of seat with almost no cover from the public and lifts her legs up high in the air. She wets her panties so anyone looking can see what she is doing. It is another very long pee! Then she stands to show off her thighs and wet panties for the camera from an upskirt angle and anyone looking can she the wet patch on the back of her skirt. For a "girl next door" type, she really is a very naughty girl!
Scene Seven

A guy offers $100 to the girl who can turn him on the most while dancing for him and wetting her panties. Willow and Vicktoria take the challenge. They take turns performing an erotic dance and acting as sexy as they can to get the guy aroused. Willow pees the most but that is not enough to win the competition. Vicktoria has all the right moves and is so erotic that she not only turns the guy on but Willow gets excited too by watching her! Vicktoria is declared the winner and collects her prize!
Scene Eight

Krista is in a playful, daring mood! She has to pee again but instead of going to the restroom at the mall, she decides to see if she can get away with peeing in one of the trash cans. She wants to attract attention and she wants guys to see her. She climbs up on a trash can showing off her panties and sits there with her legs apart. A number of people walk past her and she closes her legs sometimes. One girl watched her and probably figured out what she was doing. Finally, she starts to pee and the pee not only runs into the trash can but over the edge and onto the floor. Just then, she spots a security guard who is heading toward her and her cameraman. She closes her legs and just sits there casually looking around. As the scene ends, you hear the security guard confronting them!
Scene Nine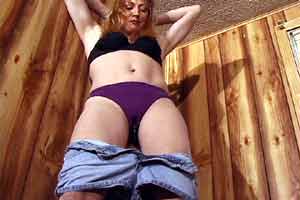 In the next scene, Willow enjoys a little naughty fun by clasping her hands behind her head after pulling her shorts down to her knees. She wets her panties and then her shorts as her pee cascades through her panties and then through her shorts. She is always thinking up new ways to enjoy her favorite fetish!
Running Time: 60 minutes

Available on

The video is $40.00 on DVD in NTSC or PAL format.

This video is also available for

download

.

Visa, Mastercard, American Express and Bitcoin can be used on the Online Order Form.
Orders and payments by mail have been discontinued.

We are no longer accepting any orders from countries in the EU VAT zone.
Since our credit card processing is done from within the EU, we have
to pay the VAT on top of CC processing and currency conversion fees.
Therefore sales to EU countries are not economically viable.
© Copyright 1995-2023 Patches' Place. All rights reserved.

Imprint & TOS | Privacy Policy | US 2257