Patches 41

This video features Daisy, Devan, Genesis, Vicktoria, and Willow from several recent videos plus a new model, Vannessa! We call this video, "Wild, Wet Women!"

The video opens with Daisy, Devan, and Willow sitting on a patio. Devan is sitting on the railing as the girls decide to have some fun with their pee games. Devan discovers she is a little exposed as she forgot to put her panties on. Nevertheless, she shoots a stream across the patio. Willow soon follows by wetting her shorts. Daisy pees last and floods her pants as she continually repeats "still going...."

You will see Willow give a guy she has just met a lap dance! He declines the offer to have her pee on him so she wets her panties right in front of him. Willow also wets her panties while riding in a giant ferris wheel at an amusement park.

Devan and Willow get together for a little lesbian wet fun! They are playing around on a blanket outdoors when they need to pee. Willow uses a vibrator on Devan and then pulls her panties aside as Devan pees all over the vibrator and blanket. Devan and Willow get into more mischief when they go into Fredericks of Hollywood to try on sexy clothes and wet themselves in the dressing room while the clerk is outside the door asking if they need help. Devan also wets her pants in the center of a busy a mall by a water fountain and on a park bench while masturbating.
Patches 41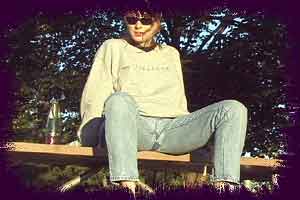 Vannessa is doing her very first scene with us as a new model when she gets a little surprise! She and Willow are at a plexiglass enclosed bus stop. All of a sudden after the girls have wet their pants, a guy walks up and starts talking to her. He is hitting on her and wants to watch her wet her pants some more. This was not planned or set up. The guy could see that the girls were being filmed but he didn't care. When they talked with him after the scene was done, he tried to get the girls to come back to his place and shoot another scene. This really happened.

In another scene, Vicktoria, Willow, and Devan are enjoying a few drinks at a picnic table in a public park. As the girls start to wet their pants, a guy walks up and starts to scold the girls for wetting themselves in public.
Patches 41

As the video ends, Willow is celebrating Octoberfest and listening to a German band and watching the German women do a traditional folk dance. This can only mean lots of fun and a full bladder! There is no point missing any of the party with a silly trip to the porta-potty! Besides, it stinks in there anyway and it is so much more fun to just let your pee go in your pants! It is sort of like being in a 100 minute contest in Munich!
Running Time: 60 minutes

Available on

The video is $40.00 on DVD in NTSC or PAL format.
VHS tapes are no longer available.

This video is also available for

download

.

Visa, Mastercard, American Express and Bitcoin can be used on the Online Order Form.
Orders and payments by mail have been discontinued.

We are no longer accepting any orders from countries in the EU VAT zone.
Since our credit card processing is done from within the EU, we have
to pay the VAT on top of CC processing and currency conversion fees.
Therefore sales to EU countries are not economically viable.
© Copyright 1995-2023 Patches' Place. All rights reserved.

Imprint & TOS | Privacy Policy | US 2257