Patches 40
This video features Daisy, Desiree, Devan, Vicktoria, and Willow who have appeared in Patches 38 or 39! We also introduce Genesis who is sexy blond with full size breasts, a great figure, and is not bashful about getting wet or showing her body.

We call this video "Golden Showers Bring Wild Flowers!" and it contains mostly golden shower scenes that are sexy with a little mischief thrown in.
Scene One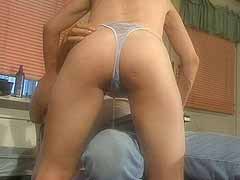 The first scene shows Willow giving a guy a haircut in a barber's chair at her home. When he asks about what special services she offers, she gives him the special treatment with a slow strip tease down to just her see through panties, a lap dance, and a golden shower. This scene has lots of naughty sexiness with touching, caressing, and kissing in addition to the wetness.
Scene Two

In the second scene, Devan needs to rent an apartment but she has all her funds tied up. The landlord offers to make an arrangement for some wet sexual favors. After indulging the landlord with some wet fun, she shows Willow and Desiree her apartment and they decide to have some wet fun of their own!
Scene Three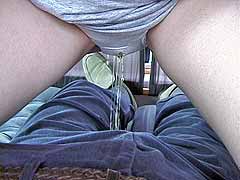 As the third scene begins, Willow and her boyfriend are in the back of a van. Willow is laying on top of him and they decide to get wet together as Willow enjoys her very first experience of peeing on a guy!
Scene Four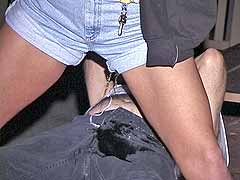 In the next scene, Daisy is in a gazebo at night time with a guy who wants her to pee on him. His friends are all around watching to see if he will go through with it. Daisy obliges him by standing over him as he lays on a picnic table and peeing through her denim shorts. After she pees, she changes out of her wet shorts and gives a show for everyone to watch!
Scene Five

In scene five, Devan and Willow are in their short sundresses and catching some rays out in a park on some towels. When they have to pee, they indulge in their favorite activity of wetting their panties! After they finish, the cameraman announces that he has to pee too. As the girls lay out on their towels, the cameraman gives each of them a golden shower that leaves both of them giggling and happy!
Scene Six

What happened in scene six surprised Devan, Genesis, Victoria, and Willow so much that they went home saying no one would ever believe them is they told them what happened during the video shoot. A guy named Jethro showed up while they were doing a scene to show how extended their stomachs were when they had a full bladder. At first Jethro watched from the sidelines. Then he started a conversation with the girls asking if they would pee on him or if he could pee on them. This was a total stranger who was not part of our video shoot! We let the video camera roll and caught some excellent footage as he interacted with the girls after they had wet their pants.
Scene Seven

We stopped the video camera long enough to talk with Jethro about what he would be willing to do in a scene and to ask the girls what they would be comfortable doing with Jethro. The girls changed into dry clothes and drank a lot of their favorite beverages. Then we started shooting again as the girls took turns giving Jethro golden showers through their pants. There was a lot of flirting going on as Jethro and the girls got into their wet encounters! Jethro thought he could impress the girls by wetting his pants and getting into the pee club but he found that it was harder to do in front of strangers than he expected. With a little encouragement and cheers from the girls, he finally got a stream running down his pant leg. Later, the girls just couldn't believe that a total stranger that they met by chance would let 4 girls pee on him. Jethro also said that no one would believe him if he told them what happened to him on the way home from work that day. This really happened - it was not set up! You have to see it to believe it!
Scene Eight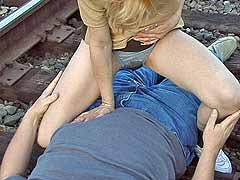 In scene eight, Willow comes across her boyfriend laying on the train tracks while waiting for a train. (We have no idea why he was laying on the tracks!) Being in a playful mood, she decides to indulge his favorite fantasy by peeing on him.
Scene Nine

In the next scene, Willow and Devan are sight seeing by some canal locks with a male friend. The outing turns a little frisky as the girls get naughty by putting some whipped cream and fudge on their boobies so their friend can lick it off. They get even naughtier as they decide to wet their jeans while sitting on his lap. All this happens while people pass behind them just a few feet away!
Scene Ten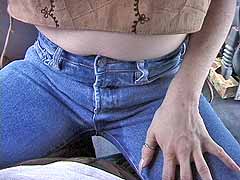 In the last scene, Willow is back in the van again with her boyfriend. It is a rainy day and that puts her in a horny mood. When she needs to pee, her boyfriend invites her to sit on his lap. She flashes her boobs, wets her pants and the scene ends as they get so turned on that they decide to make love!
Running Time: 60 minutes

Available on

The video is $40.00 on DVD in NTSC or PAL format.
VHS tapes are no longer available.

This video is also available for

download

.

Visa, Mastercard, American Express and Bitcoin can be used on the Online Order Form.
Orders and payments by mail have been discontinued.

We are no longer accepting any orders from countries in the EU VAT zone.
Since our credit card processing is done from within the EU, we have
to pay the VAT on top of CC processing and currency conversion fees.
Therefore sales to EU countries are not economically viable.
© Copyright 1995-2023 Patches' Place. All rights reserved.

Imprint & TOS | Privacy Policy | US 2257