Patches 38
Many scenes in this video feature a new model, Daisy. She is blond, over 6 feet tall, and looks like a real Amazon woman! She is extremely bold and daring and some scenes surpass the boldness of Jennifer in Patches 27 that, until now, has contained the most daring public scenes we have ever done. Speaking of Jennifer, she is also in this video as shown in a preview scene at the end of Patches 37. Another new model is Willow who is 34 years old, thin, petite, and flirts with her eyes and facial expressions while doing very sexy public scenes. Desiree is another new model who just turned 20 and has a figure to die for with full breasts on her petite body. This is the first Patches video to be multi-racial! Mercedes is a Hispanic model who will pee any time and any where! Devan is a Black model who is very thin and sexy who sometimes acts reserved but she is as bold and daring as the rest of the new models. Mercedes and Devan represent a new direction for Patches' Place as we seek to be inclusive and provide more diversity in our watersports videos.

Patches 38 is called "Looking for Some Strange?" The first scene features Daisy at the "Hall of Justice." She is standing outside dressed in a shabby suit and tie after a court appearance. On the front lawn, she removed her pants and sits down in front of the Hall of Justice sign to wet the men's boxer shorts she is wearing. As the cars pass by, she wets herself and the grass while yelling, "JUSTICE SUCKS! FUCK JUSTICE!" It makes you wonder what she might have been charged with!
Scene Two
The second scene introduces Willow and it is just as strange as the first scene. She is standing on a bridge looking at the water lillies and wonders why she can't find any in bloom. Being resourceful, she decides to add her magic solution to the pond to see if she can get the flowers to bloom. They may not blossom right away but Willow sure has a smile on her face from wetting her tight jeans and feeling the warmth from the pee that gushed down the legs of her pants!
Scene Three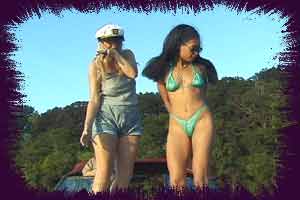 The third scene introduces Devan as she and Daisy are riding on the front of a boat down a river. Devan is wearing a bikini and Daisy has a tank top and another pair of men's boxer shorts on. Both girls soon have to pee from the boat hitting the waves so the girls ask permission from the boat's captain to pee on his boat. Permission is granted as the captain gets out his camera! Devan wets right on the deck in an instant flood! Daisy decided to pee while standing and use the "V" trick to shoot her stream out the front fly opening in the boxer shorts. Daisy manages to wet the shorts and shoot her stream just missing the camera man! After the girls finish, the Captain finds a female urinal to offer to the girls but by then it is too late!
Scene Four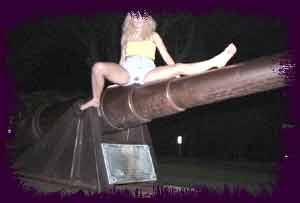 In the fourth scene, Daisy is celebrating the fourth of July by sitting on a cannon at night and pretending it is a great big cock! She strokes it, wiggles on it, and eventually pees on it through her jeans. All the while, people and cars are going by and one guy even yells at Daisy so she waves to him.
Scene Five
In scene 5, Willow is in the middle of a bridge looking at the gorge and river below. It is early evening and she is enjoying the weather and beauty of the day. To complete her enjoyment of the moment, she decides to wet her jean shorts and savor the feeling of her warm pee running down her legs as she experiences the relief of releasing her bladder. As she is peeing, a middle-aged woman comes power walking past her on the bridge and it leads to a few moments of embarrassment as she witnesses what Willow is doing. As Willow recovers from the embarrassing moment and resumes wetting her pants, a guy on a speed bike comes peddling past her but probably doesn't see her wet shorts and the puddle at her feet. Willow figures that moments like this just add to the fun and enjoyment of wetting her pants in public places!
Scene Six
Mercedes is introduced in scene 6. She and Daisy are sitting on a bench at a park near Niagara Falls and both of them are very, very desperate. As people are passing by, first Daisy floods her pants and then Mercedes floods her panties. Only then do they think about the need for a towel or something to cover themselves up so they can walk back to their car. The scene ends with a pan to Niagara Falls as the water cascading over the falls echos the rush of water that the girls just provided for onlookers!
Scene Seven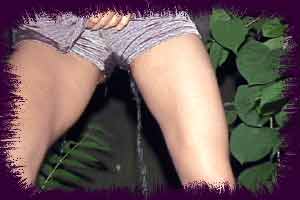 Scene 7 features Devan who arrived home late one night from a party. She forgot her key and was locked out. She had to pee really badly and went around back of her house but before she could pull down her shorts, she wet them! It was a quick flood that was out of control as she quickly squatted and finished wetting her shorts.
Scene Eight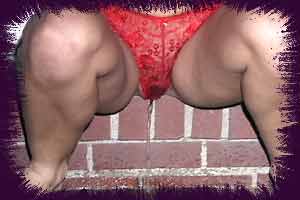 Daisy has a similar problem in scene 8 except that she is trapped outside her house in her underwear! She sits down on her steps and begins wetting her panties. In a few seconds, a neighbor walks up on her and catches her in the act! Daisy may have been embarrassed but not enough to stop peeing. She keeps wetting her panties until finally the neighbor just walks away wondering what Daisy will do next.
Scene Nine

Daisy's crazy wetting stunts just continue in the 9th scene as she decides to do a lap dance on a life-size statue and give the statue a golden shower in the process. Daisy loves an audience so she invited a guy she saw in the park to watch her wet her pants while on top of the statue. The guy preferred to stay off camera but he was only one of several people who watched Daisy's little performance! Several cars slowed down and some even stopped to watch what Daisy was doing on top of the statue - and she gave quite a show! She considered peeing on the head of the statue but then decided to give him a little cuddling and share some wetness! (Talk about looking for some strange!) Finally, she just sat on his lap and wet a man's underpants she was wearing (which is a long story). Daisy didn't make much of a flood in this scene but then it was only the second scene she had done as a Patches' Place model and she was a little nervious. We have a clip of this scene which runs a minute and a half so you can see all the fun Daisy was having at the park that day. She probably made the pigeons jealous!
Scene Ten
In scene 10, Devan and Daisy are sitting on a rock next to a brook. They are swapping stories about guys who asked them to pee on them and what happened when they did. All this sex talk and the water running behind them make them want to pee. They both go at the same time. Daisy wets her shorts and Devan is wearing a dress so she just pulls down her panties after starting to wet them and pees a forceful stream into the stream. After they finish, they decide it was so much fun that they will look for another place to pee together!
Scene Eleven
It is night time and Devan and Daisy have full bladders in scene 11. They are walking around on a plank bridge on some playground equipment and very desperate to pee. Devan is wearing the same red dress that she had on in scene 10 and she just lifts up the front of the dress and wets her panties as Daisy looks on. After watching her flood, Daisy takes her turn wetting her jean shorts and showing off her wet patches.
Running Time: 60 minutes

Available on

The video is $40.00 on DVD in NTSC or PAL format.
VHS tapes are no longer available.

This video is also available for

download

.

Visa, Mastercard, American Express and Bitcoin can be used on the Online Order Form.
Orders and payments by mail have been discontinued.

We are no longer accepting any orders from countries in the EU VAT zone.
Since our credit card processing is done from within the EU, we have
to pay the VAT on top of CC processing and currency conversion fees.
Therefore sales to EU countries are not economically viable.
© Copyright 1995-2023 Patches' Place. All rights reserved.

Imprint & TOS | Privacy Policy | US 2257