Patches 36

We call this video "Desperate in Las Vegas!" It features Brie, Cassidy, and Melissa but Cassidy was not on location with the other models in Las Vegas. It includes scenes at Hoover Dam and the Grand Canyon as well.

This video is the most difficult one that we have ever shot! Security is much higher than we expected in Las Vegas! We knew we could not shoot scenes in the casinos but we never expected the high number of security cameras outside the buildings nor the quantity of police and security guards on patrol (even on bicycles) on the streets and near the casino and hotel entrances. We almost got caught by a police officer on a bicycle in a parking garage in the first scene we shot in Las Vegas. Of course, Melissa wet her pants first in the parking lot so she was soaking wet when the police showed up!

Patches 36

This wasn't the only close call during this video shoot. At Hoover Dam, the tourists kept walking up on the models while they were peeing. In the clips below, you will see Melissa stop peeing and move to avoid the stares of curious tourists and Brie totally freaks out when a tourist suddenly appears a few feet away. The girls weren't the only ones with their dams about the burst! The cameramen were "wiggling and jiggling" since no one had a potty break on this "geriatric field trip" from Las Vegas. In the video, you will see the cameramen finally wet their pants too when they couldn't hold it any longer! But you won't see the part where Brie freaks out since this was edited out of the video.
Patches 36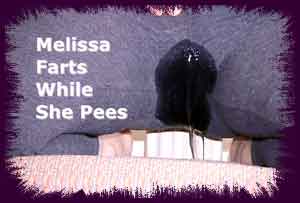 When this video was shot, it was almost Christmas. Melissa was demonstrating for Brie another talent she has - farting while she pees! (Other Patches videos with farting and peeing scenes are Melissa in Patches 25 and Cassidy in Patches Revisited 2.) The cute little "toots" prompted Brie to recall the "rooty-toot-toot" line from a Christmas tune.
Patches 36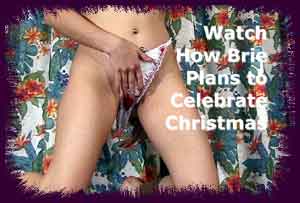 Another Christmas treat is seeing Brie demonstrate what she is going to do for her boyfriend as a Christmas present! She plans to dress up in a very skimpy Santa outfit and pee on her boyfriend while he rubs her clit!
Patches 36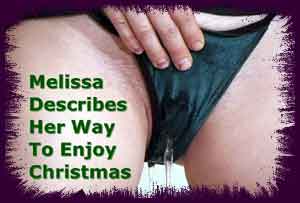 Melissa also has some plans for celebrating Christmas with her boyfriend. She has a sexy outfit too and a Santa hat to go with it. The velvet forrest green top has mesh slits running across it and a matching velvet G-string. Of course, Melissa can't resist another fart to add to this festive moment!
Patches 36

A trip to the Grand Canyon by car is 4 to 5 hours from Las Vegas. The girls were drinking their favorite beverages all the way to the canyon! By the time they got there, they were very desperate and both of them were sure they could fill the canyon. They went right to the canyon rim and started wetting their pants! The next clip shows both Brie and Melissa in their best effort to fill the canyon. Despite their combined floods, the canyon is still there and isn't filled with pee but they sure made a great effort to leave their marks on this national park!
Patches 36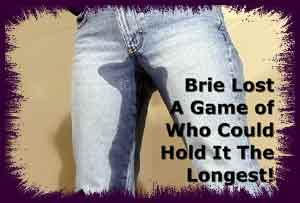 Melissa and Brie had a contest over who could hold it the longest. Melissa won! Brie gave up when she became too desperate to hold back her pee any longer. She lost but you are the winner since you will get to see both girls trying to win the bet in the video. Here is a glimpse of Brie as she gives in to the pressure!
Here are some pics of the sights on the Las Vegas Strip!

A funny incident happened while shooting a scene with Melissa next to a fountain in front of the Paris Casino. Just before starting the scene, a woman walked up to her and asked her to take a picture with the woman's camera of her in front of the fountain. Melissa complied and then the woman offered to take her picture in front of the fountain. Melissa said it wasn't necessary because she was having her picture taken by others. The woman walked away but then turned around to see who was taking her picture. Just then, Melissa was wetting her panties in front of the fountain! The woman's mouth dropped open in shock at what was happening! She watched for a few seconds and then turned away shaking her head.
Running Time: 60 minutes

Available on

The video is $40.00 on DVD in NTSC or PAL format.
VHS tapes are no longer available.

This video is also available for

download

.

Visa, Mastercard, American Express and Bitcoin can be used on the Online Order Form.
Orders and payments by mail have been discontinued.

We are no longer accepting any orders from countries in the EU VAT zone.
Since our credit card processing is done from within the EU, we have
to pay the VAT on top of CC processing and currency conversion fees.
Therefore sales to EU countries are not economically viable.
© Copyright 1995-2023 Patches' Place. All rights reserved.

Imprint & TOS | Privacy Policy | US 2257