Patches 34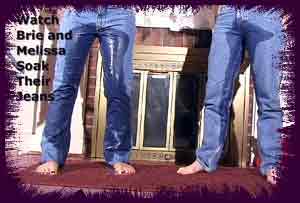 This video features Brie and Melissa plus several guys who are good "sports" for their watersports fun. We call this video "Trick or Treat!"

Scene 1 begins with Melissa and Brie discussing what they will do for Halloween when they go door to door trick or treating. Two camera angles are used to show the girls as they anticipate pulling a few tricks on people who don't have any treats for them. "Practice makes perfect" and the girls have soon drenched their jeans in their warm wetness as they stand side by side on the unprotected carpet on their living room floor.
Scene 2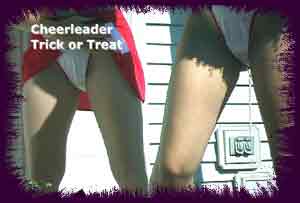 The fun begins in scene 2 as the girls stop by a house dressed in cheerleader uniforms as their Halloween costumes. There are no cheers as the homeowner admits that he does not have any treats for them. Brie immediately shows her displeasure by peeing on his porch right through her cheerleader panties. A moment later, Melissa is soaking the porch too with short pulses of pee squirting through her panties. The homeowner is shocked by what these naughty girls have done but before he can do anything, they run off to look for other places where they can cause trouble!
Scene 3

As scene 3 begins, the girls are approaching another house. This time they are dressed in nurse gypsy girl costumes with their faces covered in a Halloween disguise. In the picture at the right, you can see Brie in her nurse outfit as Melissa looks on and they both put the finishing touches on their disguise in preparation for this scene. During the scene, the girls taunt the annoyed homeowner when he doesn't have any treats for them. Then the girls pee all over his porch by wetting their panties as the homeowner looks on in amazement. When the homeowner threatens to call the police, the girls make a hasty exit but not before yelling back to him to "Tell the police we said 'Hi!'"
Scene 4

Scene 4 begins with Brie seated on a couch in a bathrobe with bra and panties dumping the candy on a table that she has collected while out Trick or Treating. Among the items is a Hot Wheels toy car with a toilet seat as the seat and a plunger as the steering wheel. (Apparently this toy maker is getting into the watersports craze!) Well, this little toy reminds her that she has to pee so she opens her bathrobe and starts wetting her panties. Part way through soaking her panties, bathrobe and couch, she decides to see if she can actually use the toilet on this toy car to catch her pee. She is not very successful since the toilet is only the size of a thimble but it is sure fun watching her try!
Scene 5

Brie is dressed in a long, black, see through dress in scene 5 which reveals her bra and panties underneath but she is no Halloween witch. She is ready to do some dancing for you as she begins her Halloween party! The music is playing and Brie is swaying! It is liquid motion at its best! Soon her dress is coming up and her warm wetness is coming down through her panties in one of the most erotic dances a watersports lover could ever want! As she finishes, she pulls her panties down just far enough to see her pubic hair. What a tease!
Scene 6

What Halloween Party is complete without a little wet fun with a guy? In scene 6, Brie is wearing a long green dress and a mask as she straddles her guy seated in a leather recliner. They talk about "Tricks and Treats" Brie promises him a warm, wet, golden treat and he promises her three of his best tricks to keep her bewitched all night! Soon the warm wetness is flowing as Brie wets her panties while sitting on his lap. This is the first of two golden shower scenes which Brie does in this video. Brie not only pees on his crotch but also makes sure his shirt gets wet too! In the meantime, her guy tickles her, unzips his pants to play with himself, and then powders her crotch when she finishes peeing. Brie sure knows how to throw a party!
More Scenes
Also included in this video are three scenes at Niagara Falls with both Melissa and Brie. Brie does her most daring public scene to date while at Niagara Falls and Melissa does a very brazen, daring, public scene at the Falls while other tourists are watching right next to her.

In another scene watch what happens when Brie gets drunk and and then see her using her firefly vibrator! Wait until you see what Melissa and Brie do in an apple orchard and in a beauty salon and in a TV repair shop!
Running Time: 60 minutes

Available on

The video is $40.00 on DVD in NTSC or PAL format.
VHS tapes are no longer available.

This video is also available for

download

.

Visa, Mastercard, American Express and Bitcoin can be used on the Online Order Form.
Orders and payments by mail have been discontinued.

We are no longer accepting any orders from countries in the EU VAT zone.
Since our credit card processing is done from within the EU, we have
to pay the VAT on top of CC processing and currency conversion fees.
Therefore sales to EU countries are not economically viable.
© Copyright 1995-2023 Patches' Place. All rights reserved.

Imprint & TOS | Privacy Policy | US 2257