Patches 33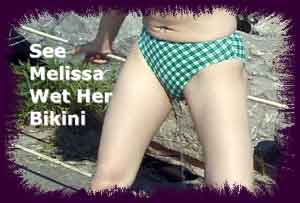 This video features Brie, Cassidy, Jennifer, Jessica and Melissa.

In one scene, Melissa is on a public pier in a bikini. People are walking up and down the pier past her. In this daring scene, she wets her bikini and despite the crowds, only one person saw her — a woman, who quickly walked the other way when she saw what was happening.
Patches 33

In another scene, Melissa is sitting on the edge of a gazebo near a lake. People are walking nearby as you can see and hear in the video. Despite this, she sits there for quite a while flooding her shorts and brushing the puddle of pee off the edge with her hand.
Patches 33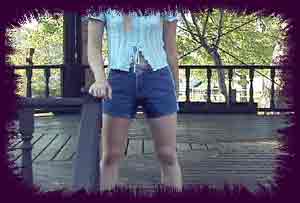 Another time, Melissa is standing in another gazebo near a canal. It is in a semi-public place and you can even see people strolling by the canal in the background. She has to go again so it is time for another pair of wet shorts as she enjoys the moment and releases a waterfall.
Patches 33

Speaking of waterfalls, you have to see and hear this! Melissa is in a very public place near a waterfalls. No, it is not Niagara Falls but it is quite large. After waiting for a couple of kids on bikes to pass, she starts wetting her shorts. A guy whistles at her from a nearby building. As she wets herself, she really gets turned on and you can hear her describe the sensation in the next video clip. It runs 77 seconds. No, the police sirens do not mean the police are after Melissa! This is the preview scene for Patches 34 which appears in shortened form at the end of Patches 33.
Other Pictures

There are several more scenes. This video is a Must Have for every Melissa Fan!
Running Time: 60 minutes

Available on

The video is $40.00 on DVD in NTSC or PAL format.
VHS tapes are no longer available.

This video is also available for

download

.

Visa, Mastercard, American Express and Bitcoin can be used on the Online Order Form.
Orders and payments by mail have been discontinued.

We are no longer accepting any orders from countries in the EU VAT zone.
Since our credit card processing is done from within the EU, we have
to pay the VAT on top of CC processing and currency conversion fees.
Therefore sales to EU countries are not economically viable.
© Copyright 1995-2023 Patches' Place. All rights reserved.

Imprint & TOS | Privacy Policy | US 2257