Patches 32
This video features Brie, Desiré, and Melissa. Most of the scenes include Brie and Melissa but there are three solo scenes by Brie and one solo scene by Desiré. We call the video "Brie Visits Melissa" because Brie decided to visit Melissa after working with her in Patches 31. She wanted to find out how to enjoy more watersports fun and one of the best experts to teach her is Melissa!

Brie has developed quite a few fans after her debut in Patches 31. This cute, cool, canoli with a winning smile and infectious laughter is just beginning to explore the sexual excitement of watersports. In her first video, she often had that "this is so silly -- I can't believe I am actually wetting my pants" look on her face. In this video, she often has that "I feel so naughty and I love wetting myself" look on her face. Brie fans will want every video she makes so they have a chronicle of every stage of her watersports exploration.

Melissa fans will love her latest video as she teaches Brie a few of her tricks and shows her some new ways to have wet fun. Melissa gives a high energy performance in entertaining her guest and introduces Brie to the high she gets from wetting her panties outdoors in public view -- which is a new experience for Brie. It is not as daring as some of the scenes Melissa has done such as the mall scenes in Patches 25 but it forecasts more daring public scenes that Brie may do in the future.

We heard a rumor that Melissa has invited Brie to go to Las Vegas with her this fall. Can you imagine the trouble they could get into? We can imagine that Melissa and Brie might literally steal the show in a Vegas casino! We can only hope that the girls invite a camera crew to go with them so we can record all the wildness for our Patches video customers!
Download Preview Video Clips for Patches 32
Scene One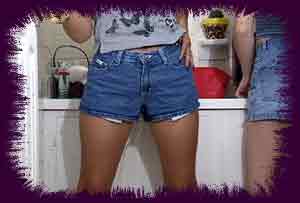 Scene 1 begins with Melissa and Brie discussing their recent dates with guys. Melissa tells about a guy who asked her to pee on him. Brie tells about what she did in a rest room stall with a guy one time. Soon they are both demonstrating their techniques for each other. Brie immediately floods her jean shorts with her pee cascading down her legs and Melissa slowly wets her shorts with dramatic effect.
Scene Two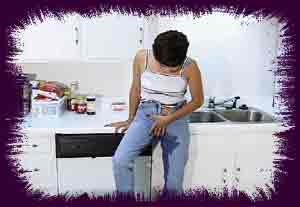 In scenes 2, Brie is washing her hands at the kitchen sink when the urge overtakes her. She briefly considers making a dash for the bathroom but by now she has discovered how much fun wetting her pants can be. She gives in to the urge and enjoys the warm feeling and the total naughtiness and thrill of wetting herself. She has definitely found a new way to pleasure herself!
Scene Three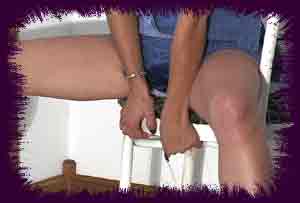 Speaking of pleasuring herself, in scene 3, Brie gets totally naughty as she sits on a chair listening to her favorite music and indulging her new turn on by wetting her shorts.
Scene Four
In scene 4, Melissa and Brie are playing a video game on TV. Even though they both have to pee badly, they won't stop their game. Even when the phone rings, they continue to play lest the other one wins the game. When they can't hold it any longer, they each stand in front of their couch and continue playing the game while they wet their pants.
Scene Five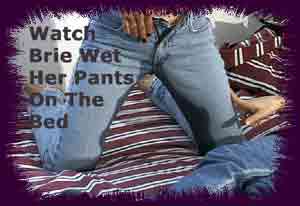 Melissa and Brie are on Brie's bed in scene 5. It is time for some bed wetting fun. First Brie wets her pants on the bed while Melissa watches and then it is Brie's turn to watch Melissa wet her pants.
Scene Six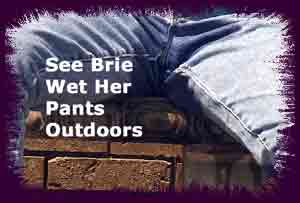 In scene 6, Melissa and Brie are wearing their jeans and sitting outside together on a warm, sunny day. This is Brie's first time wetting her pants outside and Melissa shows her the extra rush she gets by wetting her pants outdoors where she might get caught. Brie is always ready for something new and soon she is making her pants glisten in the sunlight as an expending wet spot creeps across her blue denims. You can tell Brie is getting hooked on such daring deeds!
Scene Seven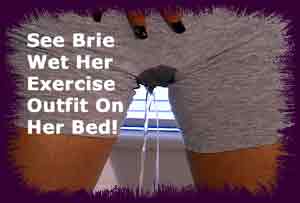 Melissa and Brie are now on Melissa's new bed in scene 7. They are both in their spandex exercise outfits and in a playful mood. Melissa suggests it is time to have some wet fun on her new bed and stands on it to wet her tight red outfit while Brie watches. The plastic covering is still on the new mattress so there is no damage as Melissa wipes up the puddle with her butt. Brie then stands in her grey spandex and makes a large puddle while Melissa watches. She slides her fanny all over the bed to wipe up the excess as Melissa runs for towels. She provides her customary beaming smile and spontaneous laughter as she examines her cute, round soaked butt.
Scene Eight
In scene 8, it is time to take some photos! Melissa and Brie use an instant camera to take pictures of each other outdoors as they take turns wetting their shorts. Just wetting their shorts isn't enough — they also pull down their shorts to reveal their wet panties too. Brie shows her nice wet butt and Melissa shows her wet panty crotch.
Scene Nine
The girls are in the kitchen in scene 9, running around in their tops and panties. Melissa gets devilishly playful and tickles Brie. Next, they are both at it — trying to tickle each other while avoiding getting tickled themselves — all the while prancing around in their panties. All of a sudden, Melissa wets herself a little. She decides to go ahead and finish wetting her panties. Brie watches as she enjoys herself. Then Brie decides to have the same fun too and wets her panties adding to the puddle on the floor.
Scene Ten
Brie and Melissa are bath in the bathtub in scene 10. Melissa has a guitar and does a little strumming while entertaining Brie with music while she wets her panties. Brie is sitting at the end of the tub and floods her panties as soon as Melissa stops for a moment. Melissa gives her the guitar and then wets her panties a second time.
Scene Eleven
In scene 11, Melissa is standing on her couch facing the wall. Brie guides her as she tries to center a couple of wall decorations. When it is time to nail them in place, Brie can't find the hammer. Melissa is caught holding the wall decorations in place and is caught short too — finally wetting her jeans. She puts the wall decorations down and asks Brie to get her a towel. While Brie is gone, Melissa plays with herself and gets so excited that she wets her pants again.
Scene Twelve
In scene 12, Brie and Melissa arrive home from a late night party and they are both smashed! They fall on the bed together side by side giving the camera a nice upskirt angle. They giggle and laugh and really have to pee. They are so tired and drunk that they just put the feet up on the bed too as they lay on their backs. They decide to pee together right where they are. Both start wetting their panties, skirts, and bed but Melissa decides she can do it better if she gets up on her knees. As soon as they are done, they fall asleep on the bed.
Running Time: 60 minutes

Available on

The video is $40.00 on DVD in NTSC or PAL format.
VHS tapes are no longer available.

This video is also available for

download

.

Visa, Mastercard, American Express and Bitcoin can be used on the Online Order Form.
Orders and payments by mail have been discontinued.

We are no longer accepting any orders from countries in the EU VAT zone.
Since our credit card processing is done from within the EU, we have
to pay the VAT on top of CC processing and currency conversion fees.
Therefore sales to EU countries are not economically viable.
© Copyright 1995-2023 Patches' Place. All rights reserved.

Imprint & TOS | Privacy Policy | US 2257