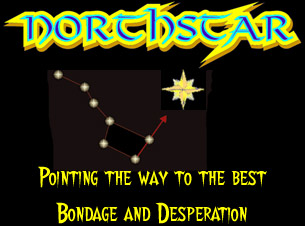 Northstar Productions — Erika Kole
Female Desperation and Bondage — two subjects that are meant to go together! You know that when girls are bound long enough and can't get to a bathroom, they are going to become so desperate they wet themselves! Northstar Productions points the way to the best in bondage and desperation themes where girls end up with bursting bladders! Each Northstar production has a story line and is not just a series of scenes.

This title has 2 parts plus some bonus footage. The first story features Erika Kole, a popular fetish star, and her colleague Miranda. The second story is an interview with Erika Kole and a test of her endurance holding her pee. The bonus footage includes six short scenes of four different girls soaking their jeans!
Part One — Emergency Stop

The movie opens with Kate (played by Erika Kole) on her way to attend a friend's wedding. Finding no rest stops for miles, she is forced to pull her car over onto the roadside and go into the woods in order to empty her bursting bladder.

As she moves away from the road for privacy, Kate encounters a female fugitive named Rachael (played by Miranda) who is bivouacking in the woods. Kate finds herself quickly overpowered, then bound and gagged while still desperate to pee.

Rachael departs with Kate's car keys to move her car off the roadside to avoid attracting attention. Left alone, Kate dances and squirms in an effort not to lose control of her aching bladder, but she needs to go so badly that she can't hold on and in forced to soak her jeans with pee.

Off camera, Rachael breaks into an unoccupied house, then returns to knock Kate out and carry her to the house. When Kate recovers consciousness, she finds herself spreadeagled to a four-poster bed wearing nothing but her underwear. She knows she must have been unconscious for some time because her bladder is starting to feel full again.

Kate calls out for attention, and Rachael finally enters and gives her some water before pressing on Kate's abdomen and squashing her bladder. She then starts tickling Kate, telling her that she can't pee on the bed.

At last, Rachael unties Kate and tells her she can use the bathroom, but only after she has dressed herself in the clothes she planned to wear to the wedding. Kate dances frantically as she slips into a skirt and heels, squashing her own bladder as she is forced to bend down.

Dressed at last, Rachael duct-tapes Kate's hands behind her back, securing her fingers so that she can't use them to lift her skirt. Rachael then leads Kate to the bathroom and leaves her struggling in front of the toilet, returning just as Kate is about to succeed in lifting the hem of her skirt high enough to pee. Lifting her off the toilet, Rachael tells Kate to stand inside the shower unit where, after another valiant fight against the inevitable, she finally wets herself again.

The story is 23 minutes long. The remaining 7 minutes is all behind the scenes footage where the camera was left running as Erika waited for things to be set up, or when she was looking over her lines with her colleague Miranda. It shows that she really was desperate to pee throughout the entire shoot, and was immensely glad to be able to let it go when a certain, sadistic cameraman finally said that it was okay for her to do so. She couldn't have waited much longer anyway!
Part Two — Waiting for the Money

A second story planned for Erika Kole could not be filmed because her colleague Miranda became ill during the first session. Instead, Erika was interviewed by the cameraman and talks about some of her desperate-to-pee situations, recounting them while she is actually longing to pee again (she had been preparing for the second story by drinking three pints of water).

It would be a shame to waste her full bladder predicament so the cameraman suggested handcuffing her to a beam in the basement and make her hold her full bladder for a while. She agreed!

Once in the basement (where it is rather cold), Erika's desire to pee rapidly intensified. She was told to wait for 45 minutes before letting it go but she said she didn't think she could last that long.

Her situation did not improve when she was made to drink another bottle of water. No sooner had she finished it when she complained that she couldn't hold it any longer and that she was losing control of her bladder. She soaked her jeans, the amount of pee clearly testifying to the fact that her bladder really had been full.
Bonus — Just Jeans

| | | |
| --- | --- | --- |
| | | |
| | For those who just want to get right down to business, and like watching women peeing in jeans, this compilation shows four different models (Christina, Nichole, Erika and Alex) peeing their jeans in six different scenes. | |
| | | |
Running Time: 60 minutes

Available on

The video is $50.00 on DVD in both NTSC and PAL format.

Visa, Mastercard, American Express and Bitcoin can be used on the Online Order Form.
Orders and payments by mail have been discontinued.

We are no longer accepting any orders from countries in the EU VAT zone.
Since our credit card processing is done from within the EU, we have
to pay the VAT on top of CC processing and currency conversion fees.
Therefore sales to EU countries are not economically viable.
© Copyright 1995-2023 Patches' Place. All rights reserved.

Imprint & TOS | Privacy Policy | US 2257