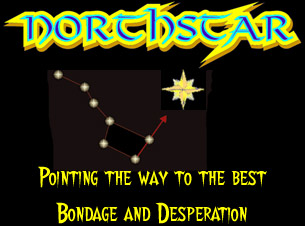 Northstar Productions — Christina Adam
Female Desperation and Bondage — two subjects that are meant to go together! You know that when girls are bound long enough and can't get to a bathroom, they are going to become so desperate they wet themselves! Northstar Productions points the way to the best in bondage and desperation themes where girls end up with bursting bladders! Each Northstar production has a story line and is not just a series of scenes.

This title has 2 parts and each story shows what happens to Christina when she is bound and not allowed to use a bathroom!
Part One — The Insurance Investigator

Karen (Christina's name in this story) is on her way to investigate a suspicious insurance claim made by a John Carson. She gets lost en-route to his house and battles the urge to pee in the car. When she arrives at Carson's residence, she asks to use the bathroom. Instead of letting her go, he grabs her and ties her up in the basement.

Carson keeps Karen bound despite her repeated requests to be allowed to use the bathroom. She makes several attempts to get free, but her situation in hopeless. After being required to drink water, Karen eventually wets herself. Carson is furious about the mess, and after finding fresh clothes for Karen from his ex-wife's closet, he takes her out into the woods and ties her to a tree because he is expecting company.

Left unattended for some time, Karen eventually needs to pee again and has to let it go in the jeans she has been given to wear.
Part Two — Keep the Cutie Waiting

Real Estate Agent Rebecca (Christina's name in this story) is showing houses to a Mr. Smith, a rather fussy client who is very particular about the kind of property he wants to buy. Rebecca, who needs to pee, tries to encourage Smith to at least look inside some of the properties they visit so that she can use the toilet. Smith refuses. After showing him several houses Rebecca drives to a mall, ostensibly to buy coffee but in reality to find a public lavatory. When she fails to locate one, she is forced to return to the car with a full bladder.

When, finally, they arrive at a house that interests Smith, Rebecca discovers that the code she has been given for the lockbox will not work, and again she is unable to get inside to pee. Now desperate to go, she calls her office to get the correct code for the lockbox, but no one is able to help. Struggling not to wet herself, Rebecca starts driving to the last showing, praying that Smith will want to go inside so she can finally do something about her bursting bladder.

Before they reach the final property, Rebecca is overcome with desperation and has to pull off the road onto a woodland track. Just before she gets out of the car, an irate Smith handcuffs one of her wrists to the steering wheel and storms off, angry that she has wasted his entire day. Unable to wait any longer, Rebecca stands just outside the car and pees in her skirt and pantyhose.
Running Time: 60 minutes

Available on

The video is $50.00 on DVD in both NTSC and PAL format.

Visa, Mastercard, American Express and Bitcoin can be used on the Online Order Form.
Orders and payments by mail have been discontinued.

We are no longer accepting any orders from countries in the EU VAT zone.
Since our credit card processing is done from within the EU, we have
to pay the VAT on top of CC processing and currency conversion fees.
Therefore sales to EU countries are not economically viable.
© Copyright 1995-2023 Patches' Place. All rights reserved.

Imprint & TOS | Privacy Policy | US 2257