Koukouvayia Peedevil Volume Four
| | | |
| --- | --- | --- |
| | | |
| | Peedevil 4 continues the series from KoukouvayiaFilms. The video runs 60 minutes and stars Morrigan who pees on carpets plus skirt wetting, naked peeing, bedwetting and pissing on teddy bears! All scenes are offered with a second view of the action from a low, floor level angle so you get an "instantreplay" of all the action! | |
| | | |
Scene One

| | | |
| --- | --- | --- |
| | | |
| | The first scene opens with Morrigan urgently needing to pee so she just pulls down her panties, squats and pees right there on the carpet. What a naughty girl! | |
| | | |
Scene Two

| | | |
| --- | --- | --- |
| | | |
| | The second scene shows Morrigan hiking up her skirt so she can pee on a cute white teddy bear which belongs to her sister because her sister won't get out of the bathroom. A second angle gives a close up view of all the wet action as she soaks this teddy bear with gleeful satisfaction. | |
| | | |
Scene Three

| | | |
| --- | --- | --- |
| | | |
| | Scene three shows Morrigan starting to wet her panties but then removing them so she can pee freely on the carpet to make a large wet spot! She takes delight in such unconventional behavior because it is so much fun to be bad. | |
| | | |
Scene Four

| | | |
| --- | --- | --- |
| | | |
| | As scene four begins, Morrigan is having one of those private moments laying on the bed getting herself off! She loves the feeling of masturbating with a full bladder. Overtaken by the urge to pee, she simply knees on the bed and lets it go. The puddle of pee encircles Morrigan's knees as she enjoys both the release and relief. | |
| | | |
Scene Five

| | | |
| --- | --- | --- |
| | | |
| | In scene 5, it is time to punish that nasty old teddy bear again! This time it is because of an argument with her sister over a dress. She really is trying to drown this teddy bear with a torrent of pee. | |
| | | |
Scene Six

| | | |
| --- | --- | --- |
| | | |
| | Scene six contains Morrigan's only outdoor scene. We are treated to the sight of one very desperate woman stopping by the side of the road to relieve herself. She loves to pee "like a man" so she can watch her pee splatter as it hits the road! | |
| | | |
Scene Seven

| | | |
| --- | --- | --- |
| | | |
| | The seventh scene shows Morrigan in a long skirt. She loves to watch her clothes get wet. As a waterfall cascades down the front of her skirt, you will wonder how one bladder can hold so much liquid. Just when you think she is done, another stream runs down her skirt and onto the carpet. | |
| | | |
Scene Eight

| | | |
| --- | --- | --- |
| | | |
| | In the eighth scene, Morrigan blasts squirt after squirt from the top of the stairway down the carpeted steps. She is shooting for distance and most guys could not shoot as far as Morrigan is able to spray her pee! | |
| | | |
Scene Nine

| | | |
| --- | --- | --- |
| | | |
| | Morrigan is horny in scene 9 and decides to wet her panties and the bed! Watch her as she plays with herself through her panties as she wet them and then ends up peeing all over the bed in a real soaker! | |
| | | |
Scene Ten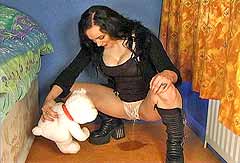 | | | |
| --- | --- | --- |
| | | |
| | In the last scene, Morrigan turns her attention one more time to that poor little helpless teddy bear! After starting to pee through her panties, she douses that "little fucker" with another golden shower to teach him one final lesson. Maybe we will find out if that lesson was learned when we see Morrigan again in Pee Devil Seven! | |
| | | |
Running Time: 60 minutes

Available on

For information on upcoming video releases, visit

Koukouvayia Films

!

The DVD is $50.00 and is available in NTSC and PAL format.

This video is also available for

download

.

Visa and Mastercard can only be used on the Online Order Form.
American Express, checks, money orders, and cash can be used with the Printable Mail Order Form.

Ordering by phone has been discontinued.
© Copyright 1995-2018 Patches' Place. All rights reserved.

Imprint & TOS | Privacy Policy