JORANA 4
Starring Jorana and Melanie
Beginning with Jorana 4, the Jorana videos feature more interaction and more erotic activity! All scenes include 2 or more people providing more sexy dialog, more peeing, and more sexual activity. You are introduced to two new girls, Jorana and Melanie, who know how to turn on each other while enjoying their sexy, wet activities. Mike, the cameraman, gets in on the wet fun too and makes you wish you were there to participate in the golden showers that these girls love to give and receive. Check out the trailer at the bottom of this page to see what you will be missing if you don't have this video!
Scene One

Jorana and Melanie are teenagers having a sleepover at Jorana's parent's house. Jorana tells Melanie that her parents won't be home all weekend. The girls begin by telling each other which boys they like in school, and then they start touching and caressing each other. Pretty soon, Jorana has to pee, and she tells Melanie that since her parents aren't home, she wants to pee her panties in her bed. She gets on her knees and gushes pee thru her white cotton panties. Then, she tells Melanie that what would really turn her on would be for Melanie to stand over her and give her a golden shower. Melanie has never done this before, but she is eager to try, and she pees in her pink cotton panties all over Jorana, and soaks her and her panties even more.
Scene Two

Jorana and Melanie had so much fun the night before when they wet their panties in bed that they are now eager to try wetting their jeans. After touching each other and getting aroused, Jorana pees in her pants, then pulls them down and enjoys her wet panties as Melanie pees in her light blue jeans. Both girls pull down their pants and enjoy the wetness of their soaking wet cotton panties.
Scene Three

This scene is sure to become a classic. Jorana is laying on the floor rubbing her pussy, then her boyfriend begins caressing her beautiful breasts and pinching her sensitive nipples, eliciting moans of pleasure. Things heat up even more as her boyfriend feels her asshole while she strokes her pussy. Then, Jorana asks her boyfriend to pee on her. He obliges, and gives her a super sexy golden shower, shooting bursts of pee on her legs, belly, and clit, and when he shoots it between her open pussy lips, she comes. Then, Jorana tells her boyfriend that she has to pee, and he asks her for a golden shower. Soon, he is laying down, and Jorana kneels over him, plays with his cock and begins peeing all over his cock and balls, stopping and starting and holding his cock underneath her golden stream. Her pee makes a great hissing noise as she empties herself on her boyfriend. Now, they are both soaked and naked, and Jorana sits on her boyfriend's lap and grinds her wet ass against his wet balls. They get hotter and hotter, and want to get wet again and they wish for another girl to get them wet some more. Melanie is only too happy to oblige, and she stands over them and pees all over them as they grind away and we see Jorana have another orgasm.
Scene Four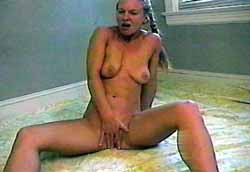 Jorana is siting on the floor playing with herself, and as she gets hotter and hotter, she fantasizes about getting a golden shower. Pretty soon Melanie appears, and stands over Jorana and pees on her as Jorana keeps playing with herself and cums. Then, Melanie asks her if she has to pee, and Jorana gets on her kness, and shoots out a beautiful stream of pee.
Scene Five
Jorana and her boyfriend Mike are watching each other masturbate. She is standing, while he lays on the floor. She tells him she has a nice surprise for him, and brings Melanie over. Melanie is naked and Jorana stands behind her and plays with her as they both straddle Mike. Melanie then pees all over Mike's cock as he jerks off. Then Jorana stands over Mike and gushes hot pee on him as he plays with himself.
Scene Six

The girls are sitting on the floor in their jeans shorts. Melanie rubs Jorana's pussy through her skin tight shorts. Jorana then squirts out a little bit of pee, and shows everyone the wet stain on the front and back of her shorts. Melanie then stands over Jorana and wets her jean shorts, and soaks the front of Jorana's shorts in the process. Then, Jorana stands, shows us her beautiful ass in her shorts, and then pees a huge gusher in her shorts as we see her ass get wetter and wetter.
Scene Seven

Mike follows Jorana into the bathroom when she has to pee. He wants to watch and film her, but she is not in the mood. Finally, he talks her into it, and she pulls down her pants and sits on the toilet and we see her pee.
This video is
not
available on DVD or VHS tape and is only available for
download
.
© Copyright 1995-2023 Patches' Place. All rights reserved.

Imprint & TOS | Privacy Policy | US 2257