Scene One
Pandora walks into a field on a beautiful summer's day to lie out in the grass and write a letter to her friend April and her new-found friend Dave. She has inherited a large house from her uncle and wants the two to come down and stay. She writes the letter, puts it to one side then gets carried away with herself thinking of Dave as she brings herself to a climax and pees all over the picnic rug she brought to lie on.
Scene 2

She gets back, puts the letter on the table to post, fetches herself a beverage and falls asleep in the sun. She dreams of having sex with Dave in the garden, and as she gets more and more turned on by the dream, the glass in her hand spills onto her lap and wakes her up.
Scene Three
Dave and April turn up unexpectedly soon. Dave, tired from the journey goes straight to bed while April and Pandora catch up in the pool room. They have some raunchy sex in, on and around the pool table which involves some pee drinking, some golden showers and some fun with a pool cue being used in not quite the way it was intended!
Scene Four
April and Pandora wake up in bed together and discuss going for a walk. April goes to have a shower. Pandora soon joins her and gives her a shower of her own! This turns April on, and the two of them are soon at it again!
Scene Five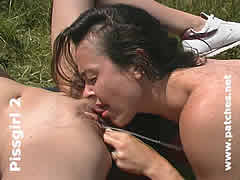 After their shower, the two of them go for a walk in the same field that Pandora went to at the start. They drink some beverages, and when it is gone, April happily fills a glass of pee for Pandora who gulps it down! With the hot weather, the two of them have some hot sex and plenty of peeing, golden showers and pee drinking goes on in a wild field romp.
Scene Six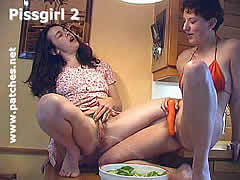 They get back to prepare lunch, but low and behold, what with all those fallic vegetables about, how can the girls resist the temptation to play with them? After they have some fun with a carrot and a courgette, the two of them wash the salad in their own unique way! It doesn't look as though they are going to get much eating done!
Scene Seven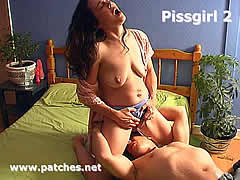 Later that afternoon, April goes for a lie down on the bed upstairs. Pandora catches Dave spying on her playing with herself. Turned on by the whole thing, Pandora sees her chance with Dave and leads him into the other bedroom. The two of them have some wild, wet sex which involves anal sex and pee drinking.
Scene Eight
After a last quick pee in the loo (of all places!!!) April and Dave finally leave Pandora - to get some rest! Quite a weekend!
Running Time: 60 minutes

Available on

for $40
Visa, Mastercard, American Express and Bitcoin can be used on the Online Order Form.
Orders and payments by mail have been discontinued.
We are no longer accepting any orders from countries in the EU VAT zone.
Since our credit card processing is done from within the EU, we have
to pay the VAT on top of CC processing and currency conversion fees.
Therefore sales to EU countries are not economically viable.
© Copyright 1995-2023 Patches' Place. All rights reserved.

Imprint & TOS | Privacy Policy | US 2257