Scene One

Pandora arrives at her friend, April's house. She rings on the bell, but no-one seems to be in. All that travelling, she simply can't wait any longer - she relieves herself right then and there. All that pent up piss quite turns her on, and just as she is having a bit of a stroke of her pussy, the door opens and Pandora falls backwards into the house! David and Pandora introduce each other, and Pandora learns that April is away for the weekend. While David goes out and leaves Pandora with the run of the house, Pandora has a rest in her friend's bedroom - at least, that's what she intends to do, but then she remembers the pleasure she felt on the doorstep and carries on where she left off and she spends the next hour or so completely indulging and pleasuring herself, making her friend's bed very wet in the process.
Scene Two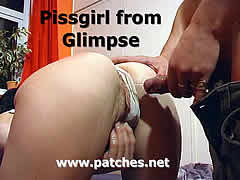 David returns, and having already seen what sort of girl Pandora is, and judging by the very wet bed she is lying on, he decides to wake her up and have some fun with her. But he chooses a rather unconventional way of waking her! Pandora never minds an eyeful though, (or a mouthful!!) especially if it's from a very sexy guy like David! The pair of them have lots of fun that evening exploring various positions and making the bed very wet in the process! They fall asleep in each other arms.
Scene Three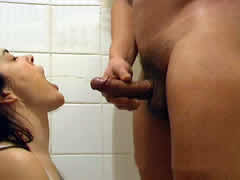 Pandora wakes up the next morning dying for a pee, but she discovers she can't get in the bathroom, because David is in there. She has to get some relief, though, so she dashes outside and lets some of it go through her shorts. She returns to the bathroom to see if she can get in and share a bath with David. He has already opened the door for her, so she offers to do one of her famous hairwashes for him! It is too much for both of them to bear, and they both end up turning each other on in a very wet way.
Scene Four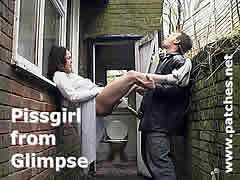 Whilst drying, David suggests a trip out to get some beer and wine for the evening ahead. Pandora agrees to come with him, and they go and find a convenience store. Having bought the beer, Pandora finds herself caught out again and asks David if he knows of anywhere they can stop for her to pee. David finds a place and Pandora disappears behind a building. After a very short while, David decides to go and see where she is. He catches her right in the act on an old loo she has found. He gets very turned on by watching her, and she gets very turned on by being watched! Unable to control themselves, they have to have a quickie in the alley, which involves a great mutual piss on each other and a very quick and feverish fuck which ends with them running away as David hears someone coming.
Scene Five

This scene opens with David bringing the food in that he has cooked for them both. They chat and eat and drink lots of liquids but she and David are getting on so well and she is so engrossed in conversation, that rather than go to the bathroom, she simply relieves herself at the dinner table, without David even noticing! She likes the excitement of that and it puts her in the mood for sex. David doesn't need much help to get in the mood, and he makes the first move as he does a re-run of the night before and gets up on the table and pees straight into Pandora's mouth. Much turned on by this, Pandora wants to do the same back, so she gets on the table and gives David a good faceful, too. By this time, the two of them are so turned on, they just have to have sex. Leaping onto the sofa, they engage in some serious fucking.
Scene Six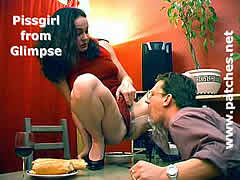 After lots of fucking and pissing, they clean up and David makes coffee. The trouble is, with a bit more conversation and some coffee inside her, plus a very good looking man, Pandora feels ready to start all over again! She changes into a sexy pink dress that David picks for her and gets up on the table, gyrating and feeling herself. This culminates in her pissing through her panties, just for his pleasure, all over the table. After that, she takes her soaking panties off and demands that he sit down in front of her, while she wrings their wetness straight into his mouth. David starts to lick Pandora's pussy hair dry, then he gets her vibrator and says he would like to see her pissing on it. She plays with it for a while, and she pees a little, but David can't watch any longer - he simply has to join in, and he's dying to piss, too. Pandora wants him to piss inside her. They fuck on the table with Pandora on top and David shoots his piss straight into Pandora's pussy as she writhes about on top of him. Then he bends her over the table and pisses so much into Pandora's pussy that it fills up and comes spurting out in a big gush! David grips Pandora's body with his thumb deep in her pussy and bucks her up and down until he cums all over her wet pussy.
Scene Seven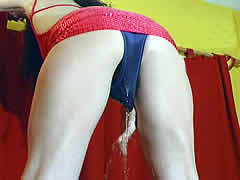 Early the next morning, and Pandora has to leave. She can't wake David, so she leaves a note about the great time she had!
Running Time: 60 minutes

Available on

for $40
Visa, Mastercard, American Express and Bitcoin can be used on the Online Order Form.
Orders and payments by mail have been discontinued.
We are no longer accepting any orders from countries in the EU VAT zone.
Since our credit card processing is done from within the EU, we have
to pay the VAT on top of CC processing and currency conversion fees.
Therefore sales to EU countries are not economically viable.
© Copyright 1995-2023 Patches' Place. All rights reserved.

Imprint & TOS | Privacy Policy | US 2257