Pee Play 3 - Girls Just Wanna Have Fun
| | | |
| --- | --- | --- |
| | | |
| | Pee Play is a new series of videos produced by Patches' Place under the name of Blue Ice Pictures. It is different from the Patches series of videos which offers short scenes and mostly wet clothing. The Pee Play series offers longer scenes, mostly nude peeing, and sexual touching which is a normal part of foreplay for both lesbian and heterosexual relationships. It is sexy, sensual, and playful. It is not raunchy nor extreme hard core content. You know what foreplay is - now discover new, exciting, wet turn ons in what we call "Pee Play!" | |
| | | |
Scene One

The first scene opens with Vanessa and Vicktoria drinking lots of liquids. They are talkin' trash and coming up with all sorts of crazy but sexy ideas. They have a contest to see if Vanessa's nipples are longer than Vicktoria's pussy lips. (Vicktoria won!) They start bragging about who can hold their pee the longest. (Vanessa won!) While waiting for the urge to become unstoppable, they are sucking honey off each other's fingers and slapping each other with a powder puff. Vicktoria pulls down her pants and sits on Vanessa's leg and pees through her panties on Vanessa. In a few moments, Vicktoria has her legs up in the air and is peeing again. Soon Vanessa is peeing in her container and Vicktoria is peeing in her bottle. The scene lasts over 20 minutes but you won't get bored with their antics! You will wish you would invite both of them to your next party and let them become the life of the party at your house!
Scene Two

Willow indulges herself with a "quickie" by playing with herself while her bladder is full in scene 2. Soon she is wetting her panties and then pulls them aside to wet her bathrobe and the couch she is sitting on.
Scene Three

Vicktoria is about to take a bath and decides to relieve herself on the side of the tub before slipping down into the warm bath water in this third scene.
Scene Four

Krista finds herself home alone and decides to have a little wet fun in the shower in scene 4. She enters the bathroom, strips off her skirt, and enters the shower with her vibrator. Then she plays with her vibrator on the outside and inside of her panties. She has to pee so she wets her panties. Then she strips everything off and washes her body all over. She pees again while standing in the shower and then sits on a ledge to play with her vibrator some more. Just when you think her bladder must be empty by now, she pees again. Krista showed you her capacity to hold her pee in Patches 44 with some very long floods. In this scene, you get to see another long flood as it flows from the source!
Scene Five

Vicktoria always wondered where her pee came out and uses a mirror to see how her plumbing works in scene 5. She tries different positions to get the best view. She satisfies her curiosity while peeing on the mirror and all over the floor.
Sceme Six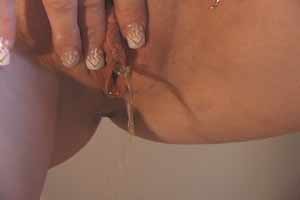 In scene 6, Willow is in a horny mood as she undresses in the bathroom. She wishes her boyfriend was there with her. She fantasizes about what she would do to him as she pees in the shower.
Scene Seven

Vicktoria gets a cute cowgirl outfit from her boyfriend and calls to thank him for his gift in the seventh scene. She wants him to come over so he can see her but he can't get away. They start having phone sex and her boyfriend talks her into removing her top. As she gets turned on, she starts to play with herself as she describes what she is doing over the phone. She gets her vibrator and when she gets excited, she starts to trickle pee in her panties and then on the bed.
Scene Eight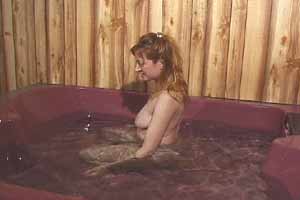 In scene 8, Willow is alone in the jacuzzi while she is waiting for her girlfriends to show up. She decides to warm up the water so she gets up on the side of the tub and pees into it. She wonders if she should tell her girlfriends when they arrive.
Scene Nine

Vanessa and Willow are having a good time drinking the afternoon away. There is no need to interrupt the conversation with a potty break so they decide to go right where they are. At first, Willow wets her pants but Vanessa decides to just fill her beverage glass instead. Willow then removes her pants and starts to fill her glass too but runs out of pee because she already wet her pants. As scene 9 ends, they click their glasses together to toast more good times together.

Download a trailer of Pee Play 3. You will need Quicktime 5.0 or later to view this file.
Running Time: 60 minutes

Available on

The video is $40.00 on DVD in NTSC or PAL format.
VHS tapes are no longer available.

This video is also available for

download

.

Visa, Mastercard, American Express and Bitcoin can be used on the Online Order Form.
Orders and payments by mail have been discontinued.

We are no longer accepting any orders from countries in the EU VAT zone.
Since our credit card processing is done from within the EU, we have
to pay the VAT on top of CC processing and currency conversion fees.
Therefore sales to EU countries are not economically viable.
© Copyright 1995-2023 Patches' Place. All rights reserved.

Imprint & TOS | Privacy Policy | US 2257